STAINLESS STEEL SWING EYE BOLT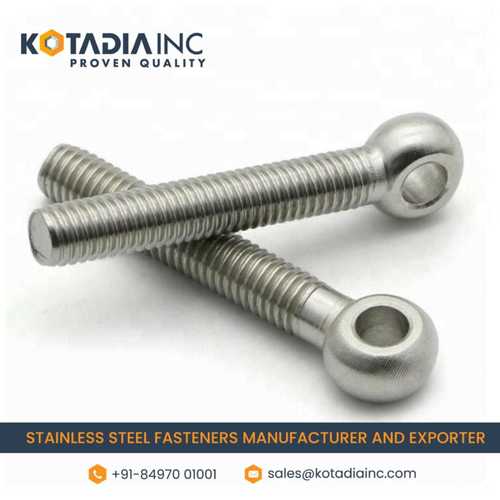 STAINLESS STEEL SWING EYE BOLT
Stainless Steel Swing Eye Bolt / Din-444
| | |
| --- | --- |
| Size | M-8 TO M-65 IN DIA, LENGTH 40MM TO 1500 MM |
| Shape | ROUND EYE |
| Material Grade | STAINLESS STEEL 304-316-202 GRADE |
| Usage/Application | Industrial |
| Diameter | M-8 TO M-65 |
| Length | M-40 TO M-1500 |
| Bolt Type | LONG Eye Bolt |
| Thread Size | METRIC AND INCHES |
LONG EYE BOLTS / SWING EYE BOLTS AS PER DIN-444, MANUFACTURER , EXPORTER, SUPPLIER IN INDIA, AHMEDABAD, GUJARAT.
STAINLESS STEEL LONG BOLTS / SWING BOLT DIN-444, These Long bolts are used extensively in Jigs and Fixtures.
They are manufactured as per DIN 444 and are not recommended for lifting applications. Being manufactured from stainless steel eye bolts they are ideal both for use in the food and pharmaceutical industries and their associated processing and packaging and also for challenging conditions.
Get in touch with us