STAINLESS STEEL LIFTING EYE BOLT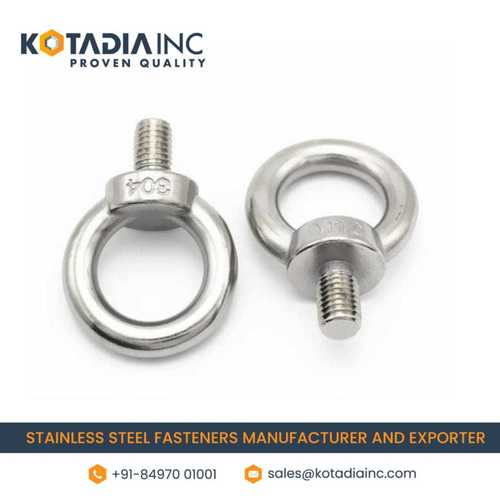 STAINLESS STEEL LIFTING EYE BOLT
TECHNICAL & APPLICATION
| | |
| --- | --- |
| Technical Notes | Eye Bolt To DIN 580 |
| Material | Stainless Steel (AISI 304 / AISI 316) |
| Processing | Cold forging / Cast |
| Finish | Highly Polishing |
| Size | M6 , M8 , M10 , M12 , M16 , M20 , M24 , M30 , M36, TO M65 Eye bolt |
| Note | Never to be used for overhead lifting |
STAINLESS STEEL DIN 580 EYE BOLT SPECIFICATION
DESCRIPTION
Eye Bolt DIN 580 Stainless Steel, also known as lifting eye bolt, conform to DIN 580. Stainless steel DIN580 eye bolt, made from marine grade stainless steel 304/316,Cold Forging / cast and highly polished stainless finish, has highly corrosion resistance.
Eye bolt to DIN 580 is versatile & adaptable component.
Kotadia Inc. Supply has the Stainless Steel DIN580 Lifting Eye Bolts in sizes M6 to M65.
Stainless steel DIN 580 eyebolt is most commonly used to attach ropes or cables to a fixed structure, threaded on one end for a more secure fit, making them perfect choice for a variety of different purposes.
FEATURES AND APPLICATIONS:
The use of Stainless Steel Lifting Eye bolt / DIN 580 lifting eye bolts must take place under the following conditions:
the length of the thread of the assembly hole must be equal to the
length of the thread of the pin of the eyebolt;
the pin of the eyebolt must be fully screwed up to the stop on the
mounting surface;
the material of the mounting surface must have the same mechanical
features of the eyebolt;
do not exceed the maximum load values indicated in the table.
Further technical information available in Operating instructions.
SPECIAL EXECUTIONS ON REQUEST
Executions in C15 E zinc-plated steel (DIN 580-ST).
DIN 580 EYE BOLT SPECIFICATION
Part No.
D1
D3
H
L
Min. BL
mm
KN
SS-580-EB-06
M6
16
28
11
6.2
SS-580-EB-08
M8
20
33
13
8.2
580-EB-10
M10
25
42
17
13.5
SS-580-EB-12
M12
30
51
20.5
20
SS-580-EB-16
M16
35
60
27
41.2
SS-580-EB-20
M20
40
68.8
30
70.6
SS-580-EB-24
M24
50
86.8
36
105.9
SS-580-EB-30
M30
60
104.8
45
188.3
SS-580-EB-36
M36
70
122.6
54
270.7
The following guidelines for Stainless Steel DIN580 Lifting Eye Bolts have to be observed in addition to the load values given in the above table.
The eye bolt must be of fully screwed in to achieve a perfect contact between the two mating faces.
Both threads must be of a equal length and the base material of equal strength to that of the bolt.
DETAILS OF LIFTING EYE BOLT DIN 580 STAINLESS STEEL
Get in touch with us